Last updated on January 5th, 2018
A Day In The Life Of My Daughter's Food Intake
Ever since my daughter started solids (read about my system here!) she has been a foodie. Really, she adores food. And my major goal is to provide her with healthy nutrients and fuel for growing body.
Advertisements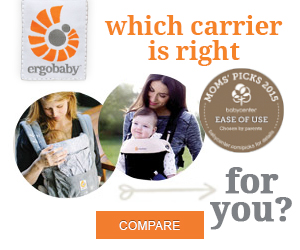 Some kids will play through their hunger and forget to eat. Not mine. In our house, you can't even open the fridge without her head being in their searching for some sort of snack.
Now, personally, I think this is awesome. I adore that she has a healthy appetite and that I am creating a little foodie so young. That said, we all know that I'm a bit of a food snob. I mean, my daughter didn't even get a real cupcake for her first birthday! (read all about that here).
Advertisements
So it's no surprise that I'm a bit picky on what she eats. Thankfully, I have THE BEST daycare provider who doesn't mind that baby bear gets sent with all her food for the day.
When it comes to quantity I only have one really big rule: I don't care how much my daughter is eating (because honestly, focusing on any sort of restriction this young is just wrong) so long as it is real food. Meaning, there will be no "four slices of bread for dinner" or "unlimited cheerios" for baby bear.
I'm aware that this sounds snotty, and really it's not my intention.  But I am going to hold out onto the stance that she will only eat healthy food for as long as I humanly can. And since currently, she doesn't know what cheerios or cupcakes are, I'm holding on fine.
In fact, her three favorite foods are; avocados, berries & mushrooms. Really, I can't complain!
So you may be wondering what the hell I feed my daughter if she eats so much?? The below picture is a snap of what I send her to daycare with for two days (this is minus two meals as she also takes whatever we had for dinner the night before).
A Typical Day Of Food For My Daughter Looks Like This:
Snack 2: yogurt and almond butter with berries
Lunch: leftovers from dinner the night before (stir fry, curry, soup etc)
As you can see, baby bear eats a lot. And this isn't even counting what she manages to sneak out of the fridge every time the door is open (normally berries, she's obsessed).
Like I said, my daughter loves food.. a lot. And I'm okay with that. I may be a food snob, and it most definitely makes the playgroup question of "what did your babe have for breakfast this morning" awkward, but I know that what I'm feeding her is giving her the fuel and nutrients she needs to stay active and keep her immune system on ultra guard.
I'm feeding her is giving her the fuel and nutrients she needs to stay active and keep her immune system on ultra guard.Click To Tweet
Don't forget to pin these toddler meal examples!
Is it tricky? Sometimes! But for me, it's doable.
I'm sure one day that will change, she'll go through her food phases like every other kid. But until then, I'll let the foodie in her stand out.
What's your babes favorite meal?
(Visited 96 times, 1 visits today)
Advertisements