4 Unexpected Lessons From Postpartum Depression
Learning to accept postpartum depression can be tricky. Accepting yourself for your postpartum depression can be even more problematic. Regardless of the situation, you can learn from your depression.
Today's post comes to us from Kaitlyn who runs the blog My Postpartum Life. Kaitlyn is a new mama just trying to find her footing in this parenting gig while she battles her postpartum depression.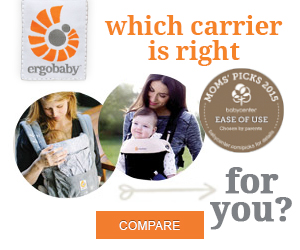 I can honestly say that my life in the last year, since I had my beautiful baby boy, was nothing like I expected it to be. I saw all these mothers gush about how incredible it was being a mother and their lives looked perfect. While all these women loved their role as a mother, I just… didn't.
And it broke my heart.
Here are the 4 lessons that I have learned since coming to the realization that, and being diagnosed with, Postpartum Depression.
Lesson 1
Just because I didn't love my role as a mother, doesn't mean that I didn't love my child.
I used to get so angry that I wasn't enjoying the experience of being a mother. I would beat myself up because that had to mean that I didn't love my child. I thought that if I felt like this, I had just doomed myself to a life of sorrow and hate.
 In doing research about PPD, I came across a line that changed everything for me-
The anger you feel is an indicator on just how much you love your child.
That completely changed my perspective on how I was feeling. All this anger I had was because I loved my child so much that it hurt that I wasn't enjoying being his mama. I wanted to, and that's why I would get so upset about it.
Lesson 2
It is okay to ask for help
There is such a stigma in society that you have to be wonder-mama and do it all yourself. Please throw that idea out of your back pocket.
There are so many people that would help you in a second if you were only humble enough to ask. It is okay to need help, we all do sometimes. Being a new mama is hard enough; PPD compounds that by a billion. It makes you feel like you aren't worth the help and that you are weak if you ask for it.
That is not true.
There is strength in being able to admit when you can't do it all on your own. There is strength in being able to admit that you need a little time to yourself. There is strength in being able to admit that you have more than just baby blues and you need to bring in reinforcements to help you get through it.
Lesson 3
I am more than what my thoughts say I am
I have the best husband ever. My cute husband attended every therapist session I had with me when I was in the thick of PPD.
During my therapy sessions, my therapist focused a lot on mindfulness. In a nutshell, mindfulness basically helps you to recognize that you can detach from your mind and become greater than your thoughts.
This concept is helpful because PPD is a pro at warping your thoughts and making you feel like a total low-life.  Mindfulness didn't really stick with me until one day I told my husband that I was not good enough to be a mama. He then said to me:
"Kaitlyn, that is just a thought."
This was a huge breakthrough for me. I am more than my thoughts and they don't dictate who I am. They especially don't determine if I am a good mama or not.
(It takes A LOT of practice to master mindfulness but seriously, it can be a lifesaver.)
Lesson 4
Being a mother is the weirdest, best commodity in the entire world
PPD really changed me. It took something that was supposed to be so beautiful and rewarding, and turned it into something that tore me down and left me feeling empty. It is hard but you will get to the point where you realize that being a mama is the greatest gift you could ever have.
It gets better… I promise.
It has taken me until now to realize that I am the luckiest human being because I get to be a mama. When I look into my baby's eyes, I no longer feel anxious and scared. I feel joy because I know that I am his whole world, and he is mine.
It took me 11 months and 25 days to fight for the bond I have now with my baby. I am scared silly when I think about having another baby, but I know it will be okay. I have risen from the ashes of PPD and I know I can do it again if I have to. 
You can do it too.
Don't forget to pin this to help other mamas struggling with post partum depression
Biography
Kaitlyn Brough is a novice mama to a beautiful baby boy. She has come to realize in the last year that there is no such thing as a mama that has it all together. She loves the show Parenthood, spends her days snuggling her baby boy and husband, and she is running a half marathon in June. She spent 5 days in the hospital earlier this year after the struggle with PPD became too much. She has made it her mission to help every mama human realize that they are not alone in their fight against their mind.  Check out her blog here.
(Visited 102 times, 1 visits today)